Autopilot Blogger
is the best
RSS autoblog tool for Blogger
Blogspot blog. It will convert any keyword into fresh new full story content from
Yahoo blog
, Bing, Yahoo or
Google news
search which will then be sent automatically to your Blogger blog. You can even activate rewrite article feature if you want
unique articles
. This feature will spin articles on the fly to
make them unique and good for SEO
. With easy to use control panel, you will then can set the posts interval to automate all these
autoposting
jobs. In just few clicks you will be able to create unlimited posts for unlimited blogs! Just set the setting as you want and let our tool do the hard work for you.
Autopilot Blogger also can work great for LiveJournal, Evernote and other blogging platforms. Just replace mail-to-blogger address with post-by-mail address given by their service.
Now, AutoPilotBlogger supports multiple languages: English, French, Germany, Spanish, Dutch (Netherlands), Chinese, Japanese, Brazil, Russia, Sweden, Polish (Poland), Korean, Turkish, Hebrew. Note that article rewriter (article spinner) available for English only.
Get the access key now as low as 8$ per month! Or Save 50% ($48) if you subscribe for a year. You can stop the subscription anytime. Once we received the payment,
we will send the access key to your PayPal email within few hours. We will also setup a control panel for you.
You will can manage autoposting jobs within the control panel. Be sure to add fullcontentrss[at]gmail.com to your email contact.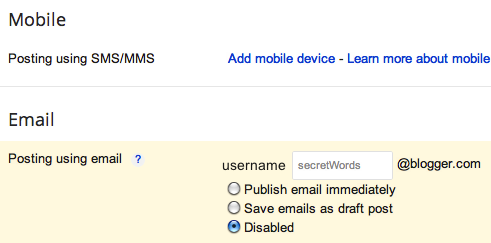 Here's the information you need to know before you start using our tool. Make sure you have created a blog on
Blogger
. If you already have a blog, login to your Dashboard, and then find
Setting >> Mobile & Email
menu. Create Mail-to-Blogger address for your blog, the format of this address is
username.secretword@blogger.com
. And then set it to "Publish email immediately" or "Save email as draft post". You also have to add
feed@fullcontentrss.com
to your gmail contact since all feeds will be sent from this email address.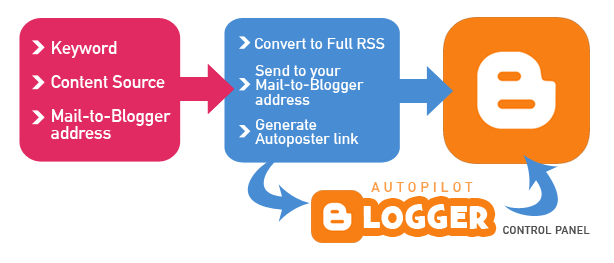 As you see on above image, there is no complex step. No need programming at all. Here's the simple easy steps:

1. Fill out the form. Enter a keyword, Mail-to-Blogger address & Access Key. Select the content source: Google, Yahoo or Bing news search. Click "Submit" button.
2. After you click "Submit" button, you will be redirected to a new page. At this point, a post has been sent to your blog & you will see autoposter link which you need to copy to your Autopilot Blogger Control Panel. We will setup a control panel for every user who buy the access key.

3. Login to your Control Panel and enter autoposter link you have generated in previous step. You will can add unlimited autoposter links there. You will can also set the post frequency: e.g. twice daily.

4. Done! That's all. You have converted a regular blog into autopilot blogger blog!
If you want add another blogs you want to convert into
autoblog
, just repeat above steps. It's easy, right?!
Blogger is free and has many features. No need domain name & hosting account, no worry about server downtime, cpu & memory usage etc. It's also easy to setup, easy to use, have a great web traffic stat, fast indexed & seo friendly URL, built-in spam filter for comments, allow you to use custom domain e.g. yourdomain.com -it's free, you can also use your own template, easy to customize, creating unlimited posts and many more!
AutoPilot Blogger script available for purchasing for $39 only. Buying the script will give you many benefits: using it for yourself, make money by offering the same service as we do to your users, customize the script, etc.

Buy the script now and we will send the script to your PayPal email in few hours. Be sure to add our email FullContentRSS@gmail.com to your contact.